Are you frustrated by your current invoice approval process? Do you want seamless, paperless workflow for invoices? ApprovalMax might be the program you are looking for.
What is ApprovalMax?
ApprovalMax is a program that integrates with Xero and Quickbooks and replaces paper and email-based approval with fully automated multi-role and multi-tiered approval workflows.  It provides financial controls for accounts payable and accounts receivable.  It also has a 5 star rating on the Xero App Marketplace.
Who is it for?
The types of organisations that benefit most from ApprovalMax are those that are fast growing, have multiple locations or strict compliance requirements. These organisations include:
✔️Organisations trying to scale and need a cloud system to automate invoicing
✔️Organisations with multiple legal entities or locations
✔️Organisations with strict compliance requirements such as NFP or governments
✔️Investor driven tech start-ups and fast-growing businesses with stringent requirements for spend reporting and financial controls 
✔️Organisations in industries such as Construction with high purchasing volume.
Key Features
Key features of ApprovalMax include:
✔️Approval automation for accounts payable and accounts receivable (including multi-step and multi-role authorisation process)
✔️Unlimited users, fully digital approval process and automated audit trail
✔️On-the-go approvals and instant notifications
✔️ Compatabile with data capture tools, including Hubdoc.
Key indicators you might need ApprovalMax
Some of the key indicators that your organisation may be in the need of approval automation:
Average time spent on email or paper approvals is over 30 minutes per week

There are a large number of approvers (over 3 approvers)

There are typically over 30 documents processed per month

Your organisation needs multi-tiered approvals

There is a need to standardise financial controls

Your organisation must comply with regulatory and audit requirements, for example, NFPs or those with public budgets.
Key Benefits of ApprovalMax
 What are the benefits of using ApprovalMax:
Less time chasing decision makers for approval

Increased productivity and reducing bottlenecks

Reduction in errors due to manual data entry

Accounting data is kept secure with non-accounting staff taken out of Xero

Full transparency and accountability for invoice authorisation

Minimised time and cost of preparing audits

Improved data integrity and financial controls

Accessible from Mobile phone
Example of ApprovalMax Workflows
ApprovalMax can be tailored to different scenarios and customised to your organisation.  
Examples of approval workflows include:
Simple approval by a single person

Sending bills to different approvers based on department/location, etc. For example, any expenses for the Albury branch to be approved by the Albury manager or advertising expenses to be approved by the Marketing department.

Sending multi-level approvals for spending limits.  For example, amounts over $10,000 require CFO Approval, amounts over $20,000 require CFO and CEO approval

Bills can be sent to different approvers based on defined criteria such as Supplier, Account Code, Tracking Category, etc.
How it works – Supplier Invoices (Bills)
If you already use Hubdoc and Xero, ApprovalMax creates a seamless approval process and eliminates any paper  invoices or emailing approval requests.  A diagram of the process is below:

A typical invoice approval process has the following steps:
Send invoice to Hubdoc.

  This can be done by email, taking a photo of the invoice on the Hubdoc App, manually uploading an invoice you have scanned, or by letting Hubdoc fetch the document itself.  Hubdoc extracts the date, amount and supplier name as well as due date and invoice number.

Publish the document to

Xero

with

"Awaiting Approval"

status

ApprovalMax

will then pick up all invoices marked as

"Awaiting Approval"

from xero and send them through the predetermined approval process.

The authorised approver will receive a notification that there is an invoice waiting approval.

Once the invoice has been approved by the authorised approver, the invoice is marked as

"Awaiting Payment"

status in

Xero

.
The process minimises manual data entry, eliminates paper and saves time.  The approval process also provides an audit log and the whole approval process is documented.
Purchase Orders
ApprovalMax also provides a two-way matching of bills to purchase orders to ensure that Bills submitted for approval are in line with the authorised purchase order.  Ensures that spending limits are not exceeded.
Sales Invoices
ApprovalMax applies the same process for sales invoices.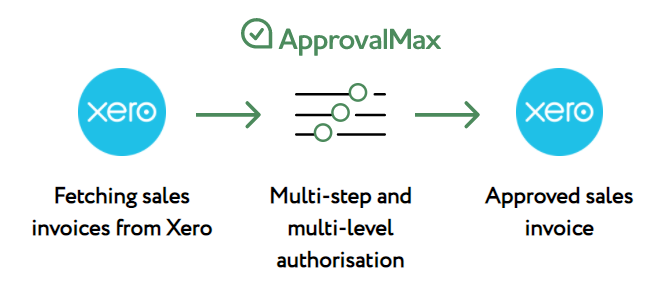 Sales invoices with the "Awaiting Approval" status are able to be sent to ApprovalMax and sent to the authorised approver for approval.  The authorised approver can approve or reject the sales invoice.  Once approved, the invoice is sent to the "Awaiting Payment" list in Xero.
Fraud detection features
ApprovalMax has in-built features to detect fraud for users who may try to bypass the approval system.  These fraud detection features include:
Ability to detect if changes have been made to an invoice or purchase order after approval

Notifications where a purchase order of invoice has bypassed ApprovalMax and has been sent to Xero.
Need help getting ApprovalMax set up for your organisation?
With the help of ApprovalMax, Passion Business Advisors is here to help automate your invoice approval process and reduce financial stress on you and your team.  If ApprovalMax sounds good to you and you are ready to take the next step, get in touch.  We can schedule a free consultation to discuss how ApprovalMax can help your business.