Virtual CFO Services
Passion Business Advisors are here to support you to grow and nurture your business to increase your cash flow, implement financial reports for stakeholders and reduce financial stress on you and your team.
Have you ever wondered to yourself…
"I think my business is going well but how do I know where I can improve?"

"How can I increase sales?"

"Sales are going great, but am I always struggling with cash flow"

"I'd like to hire more staff to expand my business but don't know if I have enough cash flow to do it" 

"How does my business compare to my competitors?"

"I have different business units but I don't know how each one is performing separately"

"I'm not sure if I'm compliant and up to date with ATO and regulatory requirements"
If any of this is familiar to you, it sounds like your business would benefit from an outsourced CFO. CFO stands for Chief Financial Officer. Large businesses have the ability to hire a full time CFO but the benefit of having a Virtual CFO is you gain access to an experienced finance guru and only have to pay for the hours you need them. This relationship can save you the expensive overhead of a full-time employee while getting all the support you and your business needs to succeed.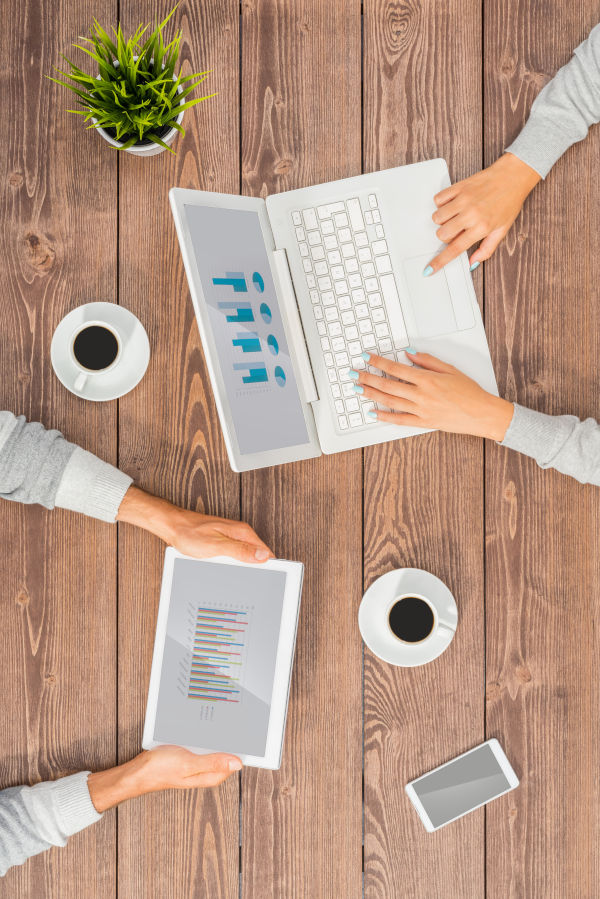 "But I have an accountant, why do I need an Outsoured CFO?"
This is a great question!  
A traditional accountant looks after your tax compliance, tax structuring and tax advisory work.  But if you are looking to grow your business and want more clarity about your direction or you are spending a lot of your own time looking after the finances, then it's probably a good time to hire a Virtual CFO.
Even if you have a team looking after your day-to-day bookkeeping and accounts, an outside expert can help provide a clear overview of your financial position.  A Virtual CFO can also provide a sounding board and is an extension of your leadership team to help you with any problems or ideas you may have.
Virtual CFO Services for Your Business
If finance is not your core business, why not free up your time so you can focus on what you love to do? A Virtual CFO can provide you with clarity of financial information which will lead to:
Have some questions about Virtual CFO Services?
How do I know if my business would benefit from outsourced CFO services?
Business owners who would benefit from an outsourced CFO include those who:
Want to have have accurate and up-to-date financial information to be able to make decisions

Want to increase their profits by improving their understanding of their financial performance and position

Want

to have

an independent sounding board for business decisions and ideas

Want to align your financial strategy with your overall business plan

Want to create a budget or forecast for the future but don't know how to go about it

Want to identify business opportunities and ways to increase efficiencies
What do Virtual CFO Services include?
At Passion Business Advisors, our Virtual CFO Services include: 
Business planning & goal setting

Monthly or quarterly management reporting

Monthly or Quarterly business review meeting and action plan review

KPI set up and monitoring

KPI Dashboard

Annual Budgets and cash flow forecasts

Cash Flow management

Review of profit margins and profitability of each service

Benchmarking

Review of financial processes, people and technology
Passion Business Advisor's Virtual CFO Services can help you and your team streamline your accounting processes leaving you more time to do the meaningful work you're passionate about.
Learn more about having a Virtual CFO on your side helping your business plan, grow and thrive: What is a Virtual CFO and do I need one?
Client Testimonials
Don't just take our word for it, see what our other clients have to say!
We have been working with Passion Business Advisors for a few months now and would highly recommend their services. Sharon's professionalism, expertise, and attention to detail are outstanding. The reports they have prepared have provided exceptional value to our business.
Sharon has been so thorough in regards to all of my accounting matters. She has great attention to detail and has answered every question that I've asked. She's also been great in transitioning me from Myob to Xero. I would highly recommend using Passion Business Advisors!
Sharon is a highly skilled accountant and business advisor. Sharon has the ability to remove the noise and bring clarity to the table quickly; allowing businesses to identify blockages and make decisions that directly impact revenue growth.
Are you ready to plan, grow and thrive?
Improve your cashflow and business performance with a passionate financial and business expert by your side.